Merchant Source Capture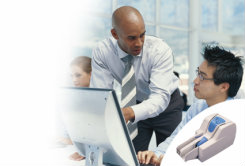 The fastest way to turn check deposits into cash, day or night. Merchant Source Capture utilizes a check scanner that connects to a business PC and the Internet. A business can scan checks they receive and securely issue deposits electronically to Quoin Financial Bank. You just need a modern Windows OS, Internet Explorer(R) 7 or newer, and a desktop check scanner connected to your PC. With Merchant Source Capture, Quoin Financial Bank can better serve businesses in remote locations and with multiple facilities.
Contact Quoin Financial Bank today for pricing and more information.
Summary

Make deposits anytime, day or night
Consolidate funds from remote locationsinto one financial institution
May offer faster funds availability
Save time preparing deposits
Cut costly courier fees or trips to the financial institution
Reduce risk of check fraud
More secure - Duplicate deposit verification for increased fraud protection and use of multifactor authentication
No software to install or maintain
Expanded reporting capabilities
Single sign-on through Business Internet Banking
Easy to use

Learn More

Watch our Merchant Source Capture Video.




FAQ

Q: Are there any deposit restrictions?

A: Yes

There will be a deposit amount threshold set by Quoin Financial Bank. Any deposit greater than the set amount must be reviewed and approved
Number of deposits per day
Total amount of deposits per day




Q: How long will check images be maintained within the Merchant Source Capture database?

A: The deposit history can be viewed within Merchant Source Capture for 90 days with Quoin Financial Bank's Merchant Source Capture. History prior to that can be accessed through Internet Banking.




Q: How are checks prevented from being scanned and deposited twice?

A: The software is designed to compare each check to the previous checks that users have deposited. If a possible duplicate item is found, users will be alerted and corrective action will need to be taken.




Q: What is the time frame during which duplicate item detection will be performed?

A: Duplicate item detection will be performed as far back as 90 days with Quoin Financial Bank's Merchant Source Capture.




Q: How do users know if the image quality is acceptable?

A: The software has an Image Quality Assessment (IQA) tool that automatically identifies checks with missing or unreadable fields.




Q: When can electronic deposits be submitted to the financial institution?

A: Merchant Source Capture users can submit electronic deposits to Quoin Financial Bank 24-hours a day, 7-days a week, even on weekends and holidays.




**Deposits after 3:30 PM will be processed the next business day.




Q: When will deposits be posted to the user's account?

A: Deposits submitted through Merchant Source Capture will be posted on the current or next business day depending on when the deposit is received. In some cases, the window for processing electronic deposits may be extended beyond the hours for traditional paper checks.




Q: What types of checks can be deposited through Merchant Source Capture?

A: All personal and business U.S. checks can be processed through Merchant Source Capture. Checks from Canada and other foreign countries, must be deposited at Quoin Financial Bank.




Q: What method is available for users to review pending deposits?

A: The user can use the Deposit Status screen to review their deposits. That screen lists the status of all deposits, so a deposit that is still pending review will be listed as such. 




Q: Can merchants set up additional users, such as their customer service team, or customer review the status of a deposit?

A: Yes. The product allows for an administrative role that has query capability. Users set up under the administrative role can view all deposits including the details of the deposit. 




Q: Is Merchant Source Capture the same product as Point-of-Purchase ACH?

A: No. Some retailers use a product referred to as P.O.P.that produces an ACH debit and truncates the check. Merchant Source Capture scans the physical check and creates an image that is electronically transferred to Quoin Financial Bank with the deposit.




Q: How secure is Merchant Source Capture?

A: Merchant Source Capture features multiple layers of security including password protection, Internet firewalls, 128-bit encryption, and a security token - the highest level of security available.




Q: How should paper checks be handled after they have been scanned and deposited?

A: Original checks should be securely stored for a minimum of 45 days prior to being destroyed, per agreement with Quoin Financial Bank. Guidelines for proper storage and destruction of original checks are included with the User's Starter Kits.




Q: Will users need to replace their scanners?

A: No. The new Merchant Source Capture system is compatible with all currently recommended scanners. The following is a list of approved check scanners:

Burroughs SmartSource
Burroughs SourceNDP
Panini Vision X 50/75/100
Canon CR-180 II
Canon CR-55
Digital CheckScan TS-230
Digital CheckScan TS-215