Visa Check Card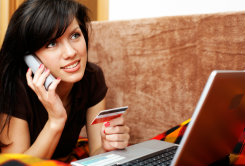 Add more convenience to your purchases with a Visa® Instant Cash & Check card. Although it looks like a credit card, it works just like a check. Purchases are automatically deducted from your checking account so it's faster, easier, and more convenient than actually writing a check.
It is accepted wherever Visa is accepted, worldwide! No need to carry a checkbook and multiple forms of identification. And you no longer have to wait for check approval. Plus, use it at one of thousands of surcharge-free ATMs!
Summary

Make purchases quickly and easily
Safer than using cash or checks
Transactions are debited directly from your checking account
Accepted anywhere Visa is accepted
Withdraw cash at any ATM
Easy recordkeeping with receipts for most transactions
Use it at one of thousands of surcharge-free ATMs




Verified by Visa

Keep your identity and card information safe and secure. Our Instant Cash & Check cards come with FREE Verified by Visa® service, that ensures you're the only one who can use your card online. Just enroll your card and choose a password. Anytime you use your card to shop online, you'll be asked to enter your password before the transaction can be completed.

Find out more and register your card at Verified by Visa website.