Visa Check Card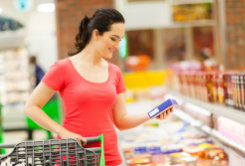 Add more convenience to your purchases with a Visa® Instant Cash & Check card. Although it looks like a credit card, it works just like a check. Purchases are automatically deducted from your checking account so it's faster, easier, and more convenient than actually writing a check.
It is accepted wherever Visa is accepted, worldwide! No need to carry a checkbook and multiple forms of identification. And you no longer have to wait for check approval. Plus, use it at one of thousands of surcharge-free ATMs!
Summary

Make purchases quickly and easily
Safer than using cash or checks
Transactions are debited directly from your checking account
Accepted anywhere Visa is accepted
Get cash from your account free at leading retailers and withdraw cash at any ATM
Easy recordkeeping with receipts for most transactions
Use it at one of thousands of surcharge-free ATMs

Verified by Visa

Keep your identity and card information safe and secure. Our Instant Cash & Check cards come with FREE Verified by Visa® service, that ensures you're the only one who can use your card online. Just enroll your card and choose a password. Anytime you use your card to shop online, you'll be asked to enter your password before the transaction can be completed.

Find out more and register your card at Verified by Visa website.

Debit Card Alerts

Quickly detect fraudulent activity on your debit card with Debit Card Alerts. Debit Card Alerts is a FREE* service that sends you real-time alerts as a text message or an email or both.




Customize Alerts

Select the type of alerts based on how you use your card:

Purchase exceeds an amount you choose
International purchases
Online purchases
All declined transactions




Click Here to sign up for Debit Card Alerts - you will be directed to our Debit Card Alert Registration site.

Register your card - by supplying basic information
Select your alerts
Then we'll alert you about selected transactions wherever you go




* We do not charge a fee for Debit Card Alerts. However, please be aware that standard messaging and data rates from your cell phone provider may apply.