Mobile Banking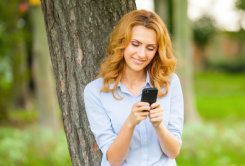 Transform your mobile device into a portable Quoin Financial Bank branch, ready at your fingertips anytime and anywhere you need to access your accounts. With free mobile banking, you can check balances, view account activity, transfer money between accounts,and find the nearest location or ATM in seconds!
Perform all your transactions on the go via SMS text, mobile browser, or a free smartphone app.On your device open the Apple App store or Google Play and search for TouchBanking. After you download the TouchBanking application you will need to enter this App Code "quoinbank" to activate it. Alternately you can enroll through online banking. Get started today!
Summary

Stay on top of your finances 24/7
Free, convenient, and fast
Perform your most important banking tasks:
View real time account balances
Monitor account activity
Transfer funds between accounts
Pay bills and send money
Search for the nearest Quoin Financial Bank ATM or branch
And more!
Access through SMS, mobile browser, or downloadable app
Use with your iPhone or Android device
Easy to enroll!

Learn More

FAQs

What is TouchBanking?

TouchBanking is a mobile banking and payments application you can use to access your account information quickly and easily from your iPhone or Android. You can use TouchBanking to:

Check your account balances
Review recent account activity
Transfer money between accounts
Pay bills
Change and cancel pending payments
Find ATM and branch locations

How do I download and activate TouchBanking on my smartphone?

You can download the app directly from the App Store or Google Play. You must be registered for your Quoin Financial Bank's online banking site as you will need your already established online banking user name and password to log into TouchBanking once downloaded. You will also need Quoin Financial Bank's App Code "quoinbank" to activate the app on your device.

Is TouchBanking secure?

To ensure the safety and privacy of your account information, we incorporate multiple security features in TouchBanking:

All transactions are encrypted
You must authenticate every interaction with TouchBanking
No personal or financial information is stored on your phone.

Can I use TouchBanking on my tablet?

TouchBanking is currently available for smartphones only.

Why is the application asking permission to access some of my phone's functions?

In order to enable some of features available through TouchBanking, the application may need to access the following on your mobile device:

Location services – So TouchBanking can return ATM/Branch search results that are relevant to your current location
Camera – So that you can use the Mobile Check Deposit feature
Contacts – So that when using the Popmoney person-to-person payments feature you can easily select a contact from your device to pay

Some of these features may not be enabled for you right now, but may be added by Quoin Financial Bank in the future.

I keep getting errors when I attempt to log into TouchBanking. What should I do?

Quoin Financial Bank requires security questions/answers, make sure that you have set these up in online banking. If you have set them up and are still having problems, refresh or reinstall the app:

For Android devices:

1. On your device, open Settings > Apps. (The menu name might be different depending on your device.)

2. From the list of applications, tap TouchBanking.

3. Tap Clear data to remove all registration information.

4. Run TouchBanking and re-register your application; using the app code "quoinbank".

For iPhone devices:

1. On your device, uninstall TouchBanking.

2. Re-download TouchBanking from the App Store.

3. Run TouchBanking and re-register your application; using the app code "quoinbank".

Who is Fiserv?

Fiserv is the company that powers online banking and bill pay for thousands of institutions and consumers nationwide. You may not recognize the Fiserv name, but if you use online banking and bill pay, chances are you already use a service that comes from Fiserv.