Online Banking & Bill Pay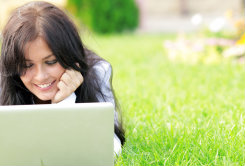 Imagine accessing all your accounts, day or night, at your convenience. Check balances at 1:00 a.m. on Friday? No problem. Transfer funds on a Saturday afternoon. Easy. Our free online banking lets you do these tasks and many more!
Keeping track of your accounts anytime gives you more control over your money. And with online bill pay, you can save time and postage fees. Plus, you can set up automatic and recurring payments so your bills will never be late again!
Summary

Access your accounts 24/7, from anywhere
View account balances and history
Transfer funds between accounts
Request stop payments
View transaction and activity information
Reconcile your account with 24-hour access
With online bill pay you can:
Pay bills electronically
Save time and paper
Pay recurring bills automatically
Pay one-time bills instantly
Pay anyone you choose, anytime
Help protect your identity

Learn More

Watch our online banking video.